Rebozos are traditional and modern at the same time - - depending on how you wear them. Always, they are beautiful....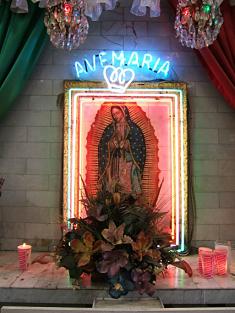 My daughter playing with my old rebozo which was used to carry her when she was a baby (I tucked in a bear at the end)...
REBOZOS are an important part of life for women in Mexico, even modern women living sophisticated lives. For hundreds of years, the larger rebozos have carried babies, provided warmth for the wearer, a head covering in church, and helped to carry packages. They still perform that function across much of the country, but also act as evening wraps over modern dresses, or beautifully made traditional wear. On special occasions in Mexico, a woman will often wear her best rebozo with great pride. The finer ones fold down into quite small packages so can be tucked away when not needed.
Rebozos are typically spun in different grades of cotton, as well as linen, silk, and artisela (rayon). There are a number of states with an important town within it, specializing in rebozos for that area. The ones that I have for sale are from Pátzcuaro in Michoacán, and Tenancingo in the state of México. The rebozos are hand spun on large looms with threads that have often been dyed in the ikat method, with long threads left as a fringe. The fringes are often tied into intricate patterns by empuntadoras - often the women who sell them later in the market.
Please don't confuse these with tourist rebozos which are generally machine made with lower quality materials. These rebozos are made of fine strands of cotton (some silk), many of which are hand dyed. These come from markets - you can see one market stand on the previous page.
Rebozos come in a number of sizes. The one generally used for carrying a baby is completo - the largest. The one that I used myself (above) is 3/4 size which works for someone who is small or slim. The mediano is used more as a shawl or wrap, and the smallest - the ratoncito is a scarf. They are all quite wonderful, and lovelier than they appear on the scans. They are very versatile and handy to bring when travelling. Each rebozo is an individual piece - no two are exactly alike and over time they become very much your own.


REBOZO #24 A (completo - 98 inches by 32 inches including fringe) cotton $95.US (sold)


REBOZO #24 B (completo - 100 inches by 34 inches including fringe) cotton $95.US (sold)


REBOZO #25 A (3/4 - 88 inches by 28 inches including fringe) cotton $110.US (sold)


REBOZO #25 B (3/4 - 88 inches by 28 inches including fringe - fringe tied to create birds, flowers, stars) cotton $125.US (sold)


REBOZO #26 A (3/4 - 88 inches by 28 inches including star decorated fringe) cotton $125.US


REBOZO #26 B (3/4 - 90 inches by 30 inches including fringe saying "carinito mio" and "duerme feliz") cotton $145.US


REBOZO #26 C (3/4 - 90 inches by 28 inches including fringe) cotton $125.US


REBOZO #27 A (3/4 - 96 inches by 30 inches including fringe) cotton $125.US (sold)


REBOZO #27 B (3/4 - 94 inches by 29 inches including bunnie decorated fringe) cotton $125.US (sold)


REBOZO #27 C (3/4 - 92 inches by 30 inches including duck decorated fringe) cotton $125.US (sold)


REBOZO #28 A (3/4 - 82 inches by 27 inches including fringe) cotton $115.US


REBOZO #28 B (78 inches by 28 inches including fringe saying "recuerdo de" and "Tenancingo" with hearts) cotton $135.US


REBOZO #28 C (3/4 - 76 inches by 27 inches including fringe) cotton $115.US (sold)