Virgin of Guadalupe items...

The Virgin of Guadalupe is a mysterious woman who has attracted much attention in the last few years. She was first seen as a miraculous vision at the Cerro del Tepeyac in 1531 - now part of Mexico City. Since then she has appealed to many Mexicans to become their patron saint, a creature who wishes nothing but the best for the people living their real and often difficult lives.
The Virgin appears in many places in the country now - hanging from the rear view mirror of cars, worn as an amulet, sitting in personal shrines or in images in Catholic churches... You can buy candles with her picture printed on the glass container, statues of every size made from a variety of materials, t-shirts (or playeras) with her slow smile beaming out at you...
I have collected a number of pieces here, and I hope that you enjoy them.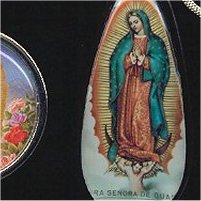 ITEM #1. These key rings all have an image of the Virgin of Guadalupe on one side, and another saint or protector on the other. They gleam nicely as the pictures are set deeply in plastic. The oval pendants are a little over 2 1/4 inches tall and 1 1/8 inches wide. Measuring them with the chain and key ring, they are 4 1/2 inches long. The key rings are $8.50.US/each.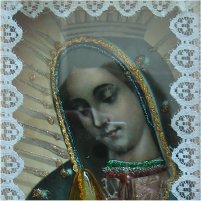 ITEM #2. I have a series of pictures here, all of them bought in Chalma. Chalma is a town to the west of Mexico City where many pilgrims (peregrinos) come to pay their respects. The town is set on a winding hill with covered street markets leading a path to the main church at the bottom of the hill. Many pilgrims arrive with flowers around their heads or draped over the hoods of their cars. There are streams to bath in after visiting the church and small restaurants with bubbling containers of different colours of mole sitting outside, and pulque waiting inside so that one can end the day with happiness.
The images for sale are becoming more and more modern so I had to search a number of market stalls to find these - - they each have a lightbulb in them, and a light cord so that they can sit magically in a special place in your home.
For item #2, the outside measurements of the frame are 9 inches by 7 1/4 inches. The frame is made of golden plastic and the image is set into a wooden box with a pale amber lightbulb. $32.US.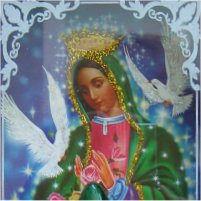 ITEM #3. The outer sides of this frame measure 9 inches by 7 inches. It is made of an almost orangey-golden plastic with the image set into a solid plastic box. A green light sits inside and the phrase "Recuerdo de mi Visita a Chalma". $32.US.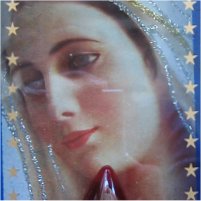 ITEM #4. This is a delicate portrait. The outside of the wooden frame is 8 by 6 1/4 inches. The image is set into a cardboard box and lit with a red lightbulb. She has been sprinkles with glitter. The words on the glass say "Yo Bendigo este Hogar" and "Recuerdo de mi Visita a Santuario del Sr. de Chalma". $32.US.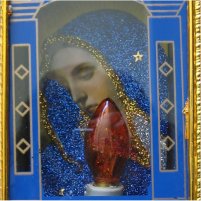 ITEM #5. This lovely picture measures 7 by 5 1/4 inches with its gilded plastic frame. The image sits deeply placed in a plastic box behind the frame, lit by a red light bulb. The words on the glass say "Yo Bendigo este Hogar". $32.US.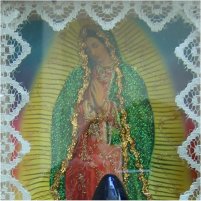 ITEM #6. This lace trimmed picture is the typical pose of the Virgin of Guadalupe. One sees it in shrines by the road, on calendars in restaurants, or in decals on cars. She is there to protect. The golden plastic frame measures 7 1/8 by 5 3/8 inches. The picture is set into a wooden frame, and decorated with a zig zag of lace. $32.US.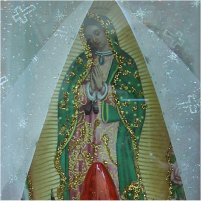 ITEM #7. This lovely picture has been trimmed with a curtain of lace, and glitter on the image itself. The rich golden plastic frame measures 8 3/4 by 6 3/4 inches. The picture is set into a solid plastic box and lit with a bright red bulb. $32.US. (sold)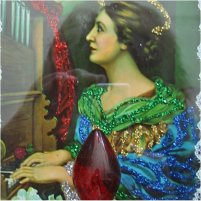 ITEM #8. This is Santa Cecelia who helps out musicians and artists. Her wooden frame is 8 1/2 by 6 1/2 inches, and her image sits in a cardboard box. There are decorations of glitter, a border of lace, and a red light bulb to give a dark mystery when the picture is lit up. $34.US. (sold)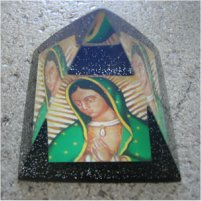 ITEM #9. I found these pyramids in a market in Mexico City. They each have the Virgin inside of them, and she beams in many directions. It is fascinating looking at the pyramids from different directions and seeing how the images intersect. The large ones are 2 5/8 inches square at the bottom, and 2 1/2 inches tall. The small ones are a little over 1 1/2 inches square at the bottom and 1 5/16 inches tall. The large ones are $18.US each, and the small ones are $8.US each.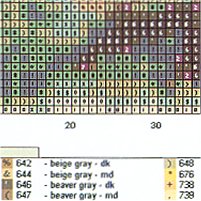 ITEM #10. Work, work, work. Here is a gorgeous cross stitch pattern for an image of the Virgin of Guadalupe in her typical pose. This is printed on an 11 by 17 inch piece of paper, clearly marked and coloured for DMC thread. It would be a beautiful piece of work to do while in a restful mood. $8.US/each.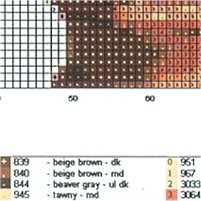 ITEM #11. Here is a second piece of work to perform. A cross stitch of the "Santísima Virgen de la Soledad" patron saint of the Oaxacans. She is standing on a moon representing triumph of belief. She was first seen on December 17th, 1620 and a beautiful gold encrusted statue exists at the Basilica de la Soledad in Oaxaca. Printed on an 11 by 17 inch piece of paper. $8.US/each.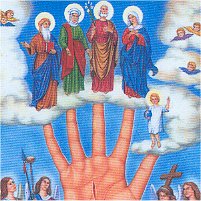 ITEM #12. These are cards that one can buy in or near places of worship. They each have an oration on the reverse. #1 is for the Virgen Santisima de la Caridad. #2 is for la Mano Poderosa. #3 is for Anima Sola. #4 is for Nuestra Senora de Fatima. #5 is for the Virgen of Guadalupe. #6 is for Nuestra Senora del Carmen, and #7 is for the Nino de Atocha. The cards are about 3 1/2 by 2 1/2 inches across, and some are just a little shopworn as they came from the market in Chalma a stand right in front of the shrine to el Senor de Chalma. $2.50.US each/minimum of 4 please.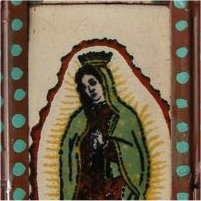 ITEM#13. I have two of these crosses featuring the Virgin of Guadalupe. The crosses are 12 inches tall and constructed of hand made tiles mounted into a cross made out of cut and hammerred brass. It has been painted with a traditional floral and spotted design. These are $45.US/each.


back to the MEXICO first page